The ability to resist or succumb to rust and oxidation vary greatly between metals. Stainless steel is the most common metal used in applications where excessive corrosion is likely to be a problem.
Applications where stainless steel is preferred include industrial plants, acidic or caustic liquid storage tanks, and locations where components are exposed to salt air or industrial pollution.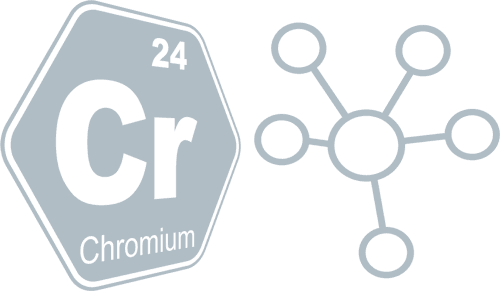 Stainless steel's corrosion resistance comes from chromium metal added to the molten iron ore. The presence of chromium atoms within stainless steel spontaneously creates a micro-thin protective layer on the metal's surface called the "passive layer." This passive layer blocks the diffusion of oxygen into the metal stopping the oxidation (rusting) process. Interestingly, the passive layer is self-repairing meaning that if the surface is scratched, chromium atoms move into the scratched area to maintain the metal's corrosion resistance.
Stainless steel's corrosion resistance is seen not only in solid steel components but also in stainless steel paints and epoxies. These "liquid stainless steels" are significantly less expensive than solid pieces, but still, retain the durability and protection of the actual metal.

Stainless steel paints mix 316L stainless steel flakes into a liquid coating that can be applied to surfaces with brushes or rollers. The 316L flakes form an extremely strong horizontal layer of protection at the surface of the coating. The layer of flakes replicates the corrosion resistance and durability of a solid stainless-steel surface, but at a much lower cost. Most liquid stainless-steel products can be applied directly to galvanized or zinc-coated metal, but for additional corrosion resistance and abrasion protection, a primer is recommended before the top coat.
What is 316L – An extra-low (.03 max) carbon version of 316 steel alloy, minimizing deleterious carbide precipitation. The addition of molybdenum provides greater corrosion resistance than 304 stainless steel and allows for it to be used in elevated temperatures.
What is better 316 or 316L Stainless Steel – Both versions are austenitic alloys, delivering optimal corrosion resistance. 316L low carbon stainless steel is the preferred version in truly corrosive environments (chemical and petrochemical).
Functionally inert, stainless steel blocks further migration of moisture, oxygen, and chemicals, which combine to foster rust, mold, mildew and other decay processes that attack metal fixtures, fittings and machinery. Whether applied to non-stainless metal surfaces, including galvanized tin, wood or concrete, BURKE stainless steel coatings strengthen surface resistance to all kinds of damage. Protection against UV exposure exceeds the performance of all other materials on the market.
Coatings exist for indoor and outdoor surfaces, minimizing downtime for repairs or restoration. Water-based primers and topcoats eliminate long fume-laced cure-periods, preventing exposure of workers and the environment to potentially toxic chemicals. Solvent-based Alloy products meet nationally-based VOC requirements and formulations are available for states with very specific VOC requirements. Alloy Bonds products assure a safe, sanitary work-surface, whether you're dealing with assembly, packing, processing, and wrapping, for chemicals, metals, plastics, foods, liquids or other materials. Short dry-times let work resume more quickly and let heavily-used facilities, equipment and areas go back to active duty fast.
LIQUID STAINLESS STEEL COATINGS
& PAINT FOR METAL & CONCRETE
BURKE Industrial Coatings is proud to manufacture its exclusive line of ultra-high performance, water-based, liquid stainless steel coatings for metal, wood, and concrete. Our stainless steel finishes utilize Alloy 316 stainless steel flakes for its unique performance properties including outstanding corrosion resistance and maximum long-term durability even under extreme exposures.
Since liquid stainless steel is essentially inert, it prevents the migration of moisture, oxygen, and chemicals and provides resistance to general weather, coastal environments, chemical fumes, spillage, and abrasion – far exceeding that of any other industrial coating. In addition, our liquid stainless steel coatings provide U.V. resistance that is superior to any standard coating on the market.
Each liquid stainless steel coating can be used as a direct to metal finish on galvanized steel, tin, aluminum, and concrete. Our stainless steel coatings can also be used as a topcoat over primed steel surfaces and most previously painted surfaces.
Corrosion and weather resistance superior to any other coating system. No primer needed over galvanized metal or zinc coatings Dry heat resistance to 400° F./205° C Used as a primer or intermediate coat, they increase the finish coats longevity through the better heat dissipation. Covers surface irregularities better than conventional coatings. Can be used as a D.T.M. finish (where applicable), Non-flammable, Low VOC, Lowers clean up and disposal costs.





BURKE Industrial Coating's VOC compliant stainless-steel spray paint aerosols offer the same level of protection and long-term benefits of our liquid stainless-steel systems, but with the added versatility, convenience and cost-effectiveness that only aerosol can provide.
Pigmented with 100% 316L grade stainless steel, they can be applied to properly prepared, new or unpainted galvanized metal, aluminum, tin, mild steel, or masonry surfaces. Our aerosol coatings can even be used for touch-up on our standard stainless coatings.
Because of their uniquely self-contained delivery system, ease of application and disposal, and incredibly fast dry times, our aerosol coatings have proven invaluable for countless OEM manufacturers and maintenance professionals who require flawless results without delay.