BURKES SPECIALTY PRODUCTS
Burke Industrial Coatings has taken the confusion and guesswork out of cleaning, priming, and topcoat selection.
Burke can help you handle any one of your tough maintenance or OEM coating problems. 
METAL PRIMER COATINGS
BURKE Industrial Coatings metal primer coatings are formulated to prime steel, aluminum, and galvanized steel and to provide added protection from corrosion and chemical attack in harsh environments. Our industrial-grade primers contain pacifiers and rust inhibitors that stop premature degradation in its tracks and contribute to a longer service life of metal for manufacturing and maintenance operations. With superior adhesion properties, our primers prevent chipping, cracking and peeling to promote optimal performance. Fast drying with low VOC's and low odors, our primers are well suited for plant maintenance, OEM operations, or any fast-paced industrial environment – interior or exterior.
BURKE primers may be top-coated with a multitude of industrial coatings, and when combined with any of our high-performance stainless steel or non-metallic topcoats, provide a complete system of products.
READY TO USE METAL PRIMERS
BURKE's ready to use metal primers are a single component, fast-drying, low VOC and extremely resistant to temperature and corrosion. With unique ability to adhere to surfaces with a slight contamination of oils and greases, and meeting USDA standards for use in federally inspected meat and poultry plants, they are an ideal primer for application in food processing, automotive and transportation.



METAL CLEANING PRODUCTS

BURKE Industrial Coatings offers a line of industrial-strength metal and aluminum cleaners and metal prep products. We have the right product to meet your cleaning needs regardless of the contamination encountered.
Offering both super heavy-duty cleaners and 100% biodegradable water-borne formulations, we have tailored our product lines to meet the many challenges faced by our customers in all facets of metal cleaning and preparation..
GENERAL PURPOSE METAL CLEANERS

BURKE's general purpose alkaline cleaner/degreaser serves a variety of applications in general metalworking and industrial applications. It is a vastly superior, and safer alternative to solvents when prepping the metal for painting and finishing operations. The biodegradable formula is safe for use on all metals and acts by emulsifying any grease and oil on the metal surface. Ideal for manufacturing, MRO, food processing and automotive environments.
Industrial Strength Cleaner for Metal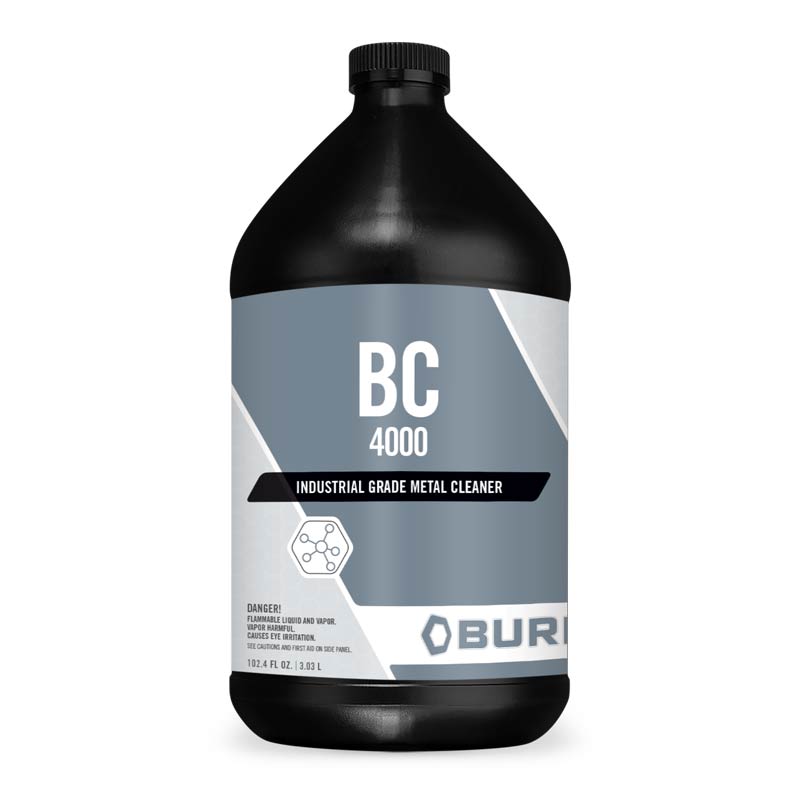 COMMERCIAL METAL PAINTS AND COATINGS
BURKE Industrial Coatings has taken the confusion and guesswork out of topcoat selection.
Yes, you can handle any one of your tough maintenance or OEM coating problems by selecting one of our topcoats. Their ultra-high performance characteristics, as well as their wide range of performance parameters, make your selection process simple. Our topcoats use only the very best non-metallic pigments in order to offer you a complete spectrum of non-metallic colors. Use on properly prepared and primed metal, masonry or wood surfaces in outdoor or indoor environments. May be applied by brush, roller or air atomized and airless spray. Don't confuse these products with ordinary maintenance, or OEM paints. If you are looking for your best coating value, select BURKE Industrial Coatings commercial metal paints.
COMMERCIAL GRADE ACRYLIC METAL PAINT COATING
BURKE Industrial Coatings high-performance epoxy paint coatings are a tough, durable resin system that protects equipment and surfaces in extremely corrosive environments. The unique formula developed by BURKE is superior to other products on the market because it is cured with a more effective set of organic compounds. The results are a sophisticated epoxy paint coatings system, available in clear and pigmented finishes including Alloy 316 Liquid Stainless Steel, that can stand up to everything from saltwater to harsh chemical solvents and cleaners.
The difference is in the chemistry. BURKE improved the formula for conventional epoxy paint coatings by combining a water-based epoxy paint with a special curing agent that creates a denser, tighter polymer film increasing chemical resistance. Conventional epoxy paint coatings have a cross-linked chemical structure you can compare to the wire mesh of a screen door: The strands are hooked together, but there are many holes between the molecules. BURKE high-performance epoxy coatings are more like a dense fabric, they have a tighter weave and the spaces between the molecules are much smaller.