[caption id="attachment_2479" align="aligncenter" width="1170"]

Chemical Resistant Stainless Steel Commercial OEM Metal Epoxy Coating - Steel Plus CE 316™[/caption]Steel Plus CE 316 is a two-component, water-based epoxy filled with 316 stainless steel flakes. It is our most chemical resistant, Bis-F type epoxy product and is designed for extremely severe duty applications. Steel Plus CE 316 is a 2 to 1 mix and requires no induction time before painting. Steel Plus CE 316 is based on the newest epoxy technology, allowing us to formulate an extremely high-performance coating in a non-HAP and low VOC formula. We use an aliphatic amine curing agent enabling much higher cross-linking density which gives Steel Plus CE 316 its exceptional moisture and chemical resistance. Steel Plus CE 316 is easy to apply, dries quickly and has a fast recoat time. It can be used directly to metal but will provide higher performance when used with Steel Plus Epoxy Primer. It is USDA and FDA accepted and is well suited for both plant maintenance and OEM applications. Available in metallic gray and other limited metallic colors.[/vc_column_text][vc_column_text]
How to Apply Stainless Steel Novolac Epoxy Metal Paint:
Only Apply Steel Plus CE 316™ when air and surface temperatures are between 50
o
F and 100
o
F and surface temperature is at least 5
o
F above the dew point.
Preparing the Metal Surface for Steel Plus CE 316™:
Remove all dirt, grease, oil, salt and chemical contaminants by washing the surface with BC-4000 cleaner or other suitable cleaners. Thoroughly cured old coatings or new smooth metal may require scuff sanding for maximum adhesion. Aluminum surfaces should be washed with BC7000 and rinsed with clean water prior to applying stainless steel epoxy metal primer - finisher.
Mixing:
2 to 1 mix water-based epoxy
For Moderate Exposure Metal:
 Abrasive blast to SSPC-SP-6 commercial blast before priming.
For Severe Exposure Metal:
An abrasive blast to SSPC-SP-10 near white blast before priming.
Required Curing Agent:
16-CURE; mixing ratio (2) parts "A" + (1) part "B" by volume
Epoxy Stainless Steel Paint Appearance: S
tainless Steel Satin
Recommended Primers:
 Steel Plus Epoxy Primer or Prime Solution 5250 Red/5253 Gray.
How to Thin Water-Based Epoxy Stainless Steel Metal Primer - Finisher:
Using a Roller or Brush:
 Use as mixed. Dilute with water as needed.
Using an Air Atomizer Sprayer: 
Dilute 5-10% with water if needed.
Using an Airless Sprayer:
 Normally use, dilution not needed.
Steel Plus CE 316 CleanUp:
Soap and Water
Recommended Equipment for Steel Plus CE 316™ Epoxy:
Filter:
Use 50 mesh stainless steel screen or nylon bag when needed
Brush:
 Use a quality synthetic bristle brush
Roller:
 Use quality roller cover
Air Atomized Spraying:
 Follow equipment manufacturer's nozzle and needle selection recommendation for use with medium viscosity paints. Spray at 45-60 psi.
Airless Spraying:
 1800-2400 psi with 0.013 to 0.015 tip.
Hot Spraying:
120F
Steel Plus CE 316™ Specifications:
Weight Per Gallon:
  9.59 Lbs
Solids by Weight:
35.63%
Solids by Volume:
25.37% (part "A" alone), 32.20% (part "A" & "B" combined)
Recommended: DFT:
2.5 mils WFT to Achieve DFT: 8.0 mils
Induction Time:
None
Theoretical Coverage:
@1 MIL DFT 515 sq. ft./gal
Actual Coverage at Recommended DFT:
206 sq. ft./gal
Dry Time @77F and 50% Humidity:
Tack Free:
 20-60 minutes
Handle:
2-4 hour
Recoat:
1 hour after dry to touch
Full Cure:
7 days (drying can be accelerated)
Pot Life:
2 hours (mix just enough epoxy to use up in 2 hours)
Heat Resistance When Fully Cured:
300F
Shelf-Life:
1 year
Food Duty Stainless Steel Epoxy Coating Testing Data
Steel Plus CE 316 Stainless Steel Paint
Impact Resistance ASTM D2794-93: 160"# Direct, 160"# Reverse Cross Hatch Adhesion ASTM D3359, Method B. Rates 5B on steel and aluminum Pull Off Adhesion ASTM D4541 and ISO 4624, 1085psi direct to metal, 3289 psi over Steel Plus Epoxy Primer Pencil Hardness ASTM D3363: 6H Mandrel Bend ASTM D522, Method B: Pass 1/8" Bend Sag Resistance ASTM D4400: No sag at 10 mils Cleaning/Thinning Solvent Water Humidity** ASTM D4585: No blisters after 1000 hours Salt Spray** ASTM B-117: 1500 Hours, no blisters, no undercut Temperature Range Cured: – 40°F to 300°F – will begin to yellow above 200°F. Odor: Little to none
OEM - Manufacturing applications:
Food packaging equipment
Food processing equipment
Medical equipment
Power transmission equipment (motor/gearbox)
Conveying equipment
Palletizers and de-palletizers
Robotic equipment Semi bulk and dry powder equipment
Blowers/fans
Dryers
Freezers
Heat exchangers
HVAC equipment
Labelers
Motors
Pumps
Tanks
Valves
Chemical: Tanks Applications:
Ladders
Decking
Piping
Pumps
Valves
Mining Applications:
Conveyors
Equipment
Transportation
General Applications for  City/County/State:
Parks – maintenance equipment, play equipment
Utility – transformers, electrical boxes
Transportation – sign posts, guard rails, bridges
Plant maintenance
Equipment maintenance
Features and Benefits of Steel Plus CE 316 Stainless Steel Paint
---
| | |
| --- | --- |
| Water Base | Thins with and cleans up with water No expensive solvent to buy No expensive solvent disposal Worker safe – little or no odor Minimal environmental impact No expensive safety gear required |
| Stainless Steel Pigment | Protects against chemical attack Inert to ultra-violet radiation Will not chalk Excellent in wash down areas Less costly than stainless steel metal Excellent in extreme weather conditions Exceptional resistance to fade and loss of gloss Hides surface imperfections |
| Bis-F Novolac Epoxy Resin | Fast dry Superior hardness Very flexible Excellent abrasion resistance Easy spray application Excellent adhesion Excellent chemical resistance Cured with an aliphatic amine |
| Non-Flammable | Reduces fire danger Lowers insurance premiums No special storage required No hazardous shipping issues |
| USDA/FDA Accepted | Incidental Contact |
| Low VOC | Meets Clean Air Regulations Reduces Gov't paperwork Health & Safety |
| Two Component | Easy 2:1 ratio |
| Production Dry Times Fast Dry/Same Day Use or Shipping | Dries to Touch 10-20 Minutes Dries to Handle 20-40 Minutes Dries to Recoat 1 Hour |
| | |
Safety Information for Epoxy Stainless Steel Metal Coating:
VOC:
197 g/L or 1.65 Lbs/gal (part "A" & "B" combined)
Flash Point:
N/A California Prop. 65 warning: Detectable amounts of chemicals known to the state of California to cause cancer, birth defects or other reproductive harm,
may
be found in this product or its vapors. For specific information refer to the Safety Data Sheet(SDS)
*** FOR INDUSTRIAL USE ONLY. KEEP OUT OF REACH OF CHILDREN. ***
Steel Plus CE 316™ Liquid Stainless Steel Epoxy for Metal Ordering Information:
| | | | |
| --- | --- | --- | --- |
| Product Number | Size | Wt./Case | Case Quantity |
| 10-808A-F4 | 1 Quart | 27 | 6 |
| 10-808A-F1 | 1 Gallon | 60 | 4 |
| 10-808A-F5 | 5 Gallon | 52 | 1 |
Stainless Steel CE-316™ Coating Requires Curing Agent 16-Cure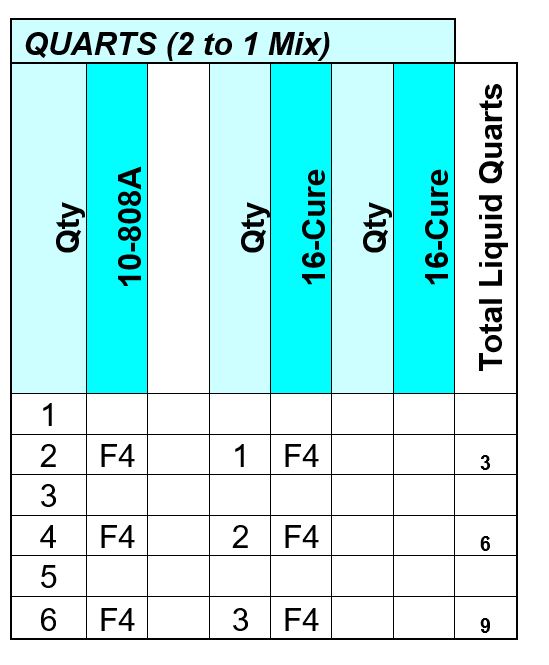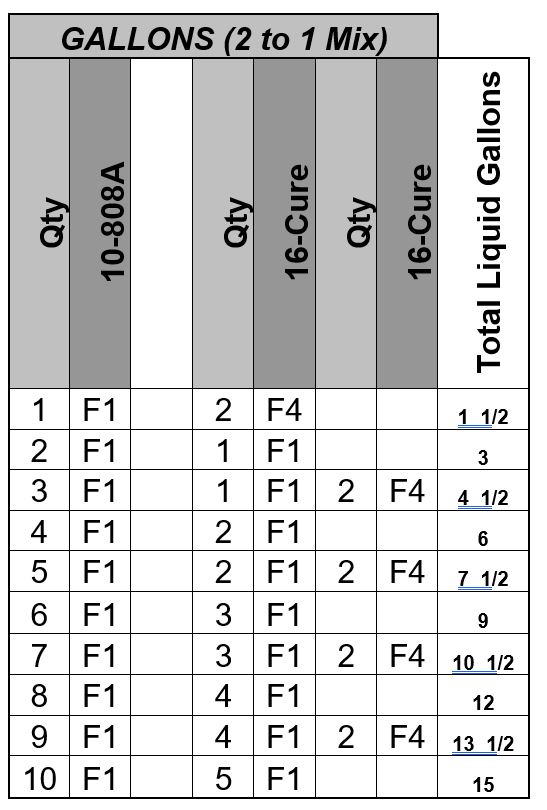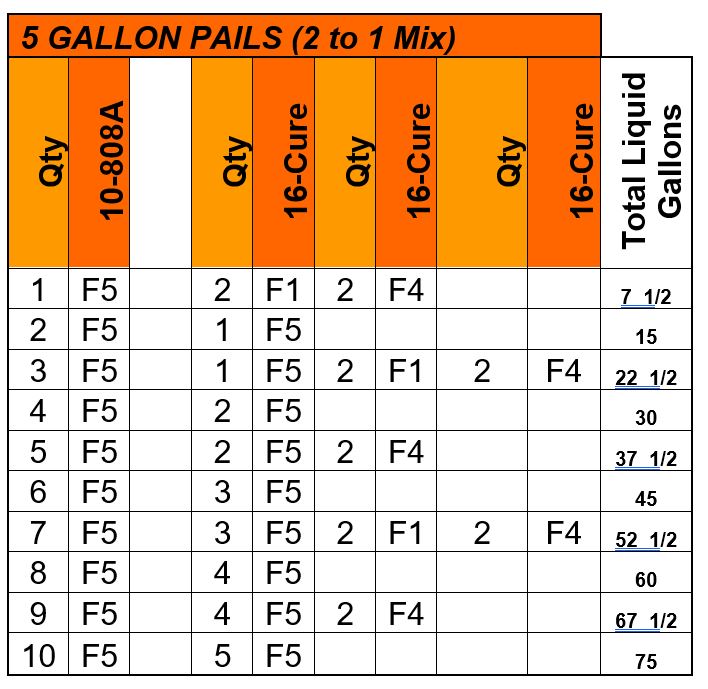 Additional information
| | |
| --- | --- |
| Size | Quart, Gallon, 5 Gallons |